Hi, I'm Victoria, a Licensed Marriage & Family Therapist. As a mom of 3, I know firsthand how hard it is to prioritize self-care and health. I know how hard it is to manage our job, relationships, children's lives, homes, and so much more. We get so wrapped up in managing others that we forget about working our internal worlds.
The bottom line is:

You are struggling on the inside, and you have gotten pretty good at hiding it. You hope no one notices you feel worried, overwhelmed, sad, and sometimes lonely.
Your relationships are strained, and you feel like you can't get ahold of your emotions. You feel like you have lost yourself somewhere along the way. You are unsure exactly what happened or when it started happening, but you're just not happy.
This is where I can help. I help women on their journey to find themselves again. I want to help you sort out what is happening in your internal world, help you better grasp your emotions, and help you change your relationship with worry and more. All this so that you can feel a sense of joy again in who you are, in your relationships, and live the life you want. Your therapy journey is uniquely yours, and there are no false promises to fix what's broken because you're not. You are a mighty woman who wants to walk in discovery—a woman who wants to change patterns that need to be fixed. You don't need to struggle alone. You can get the help you want today. I hope to see you soon.

Women's Counseling services (en espanol)
Hola,
Soy, Victoria, siendo una mamá de 3, entiendo lo difícil que es poner nuestro autocuidado y salud primero. Se lo difícil que es manejar nuestro trabajo, nuestra relación, la vida de nuestros hijo(a)s, nuestro hogar, y mucho más. Estamos tan concentradas en manejar a otros que nos olvidamos de nuestro mundo interno, También recuerdo lo que es ser una adulta joven, ir a la universidad y trabajar a tiempo completo.
La conclusión es:
Tienes problemas internos, y te has vuelto muy buena escondiéndolo. Esperas que nadie se dé cuenta que te sientes preocupada, abrumada, triste, y a veces sola. Tus relaciones se ven afectadas, y sientes que no puedes controlar tus emociones, Te sientes que te has perdido a ti misma en el camino. No estas segura exactamente que paso o cuando empezó, pero no estas feliz. Aquí es donde puedo ayudarte. Yo ayudo a las mujeres en su camino a encontrarse a sí mismas.
Quiero ayudarles a resolver lo que está pasando en sus mundos internos, a que se tengan un mejor entendimiento de sus emociones,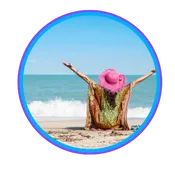 y ayudarle a cambiar quien es, en sus relaciones y a vivir la vida que quieren vivir. Tu camino terapéutico es únicamente tuya, y no hay falsas promesas de arreglar lo que esta roo, porque no estas rotan. Eres una mujer fuerte que quiere descubrirse a sí misma Que quiere cambiar patrones que no están funcionando. No necesitas sufrir sola. Puedes obtener la ayuda que necesitas hoy. Espero verte pronto.