Hi!
I'm Victoria, a licensed marriage and family therapist. I specialize in helping children & teens better manage anxiety, heal from trauma, process grief, and more. I'm also a parent coach and Parents as Teachers certified Parent Educator. As a counselor, I help parents navigate parenting while their children are in distress. As a parent coach and educator, I help parents learn how to parent from a developmental perspective and parent from the inside out. I'm located in Brentwood, TN.
As a parent of three myself, I understand firsthand the joys, challenges, and stresses of parenthood. I remember humble beginnings not knowing how to parent and relying heavily on my upbringing (which was not always the best parenting), and stumbling painfully along the way. Now, my profession, education, and passion to fine-tune my parenting skills has improved my relationship with my children. Nowadays, I experience the joys of parenting more often than not. That being said, you're officially invited to Not Your Average Parent Book Club.
This is a book club designed for parents who are eager and interested to learn new parenting techniques, new perspectives and hungry for support and change. This parenting book club will be held virtually and in 6-week increments with 3-week breaks between new book selections.
Not interested in Parent Management therapy? Not sure about parent coaching but still eager to learn? Then this book club is for you!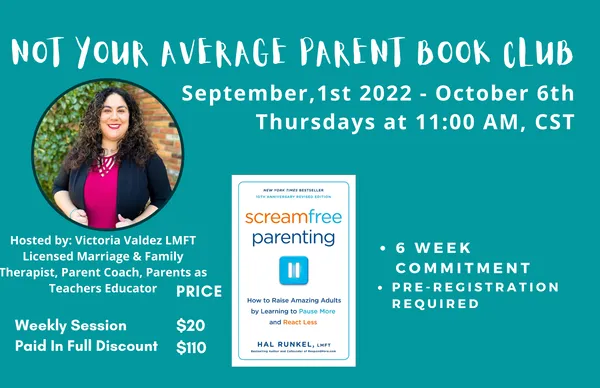 What Can I expect?
1 hour a week for a 6 weeks time slot
Virtual meeting
Facilitation of meetings from a Licensed Mental Health Professional & Parent Coach "aka: access to pick my brain for parenting tips"
Access to the Not Your Average Book Club Facebook for community and tips
A safe, nurturing space to talk amongst other parents about your parenting journey and new found perspectives through each selected book reading.
3rd week raffle prize & end of 6 weeks raffle prize!
Laughter, Connection, Community, Change
FAQ:
Price:
$20 per book club meeting (total $120)

or you can pay in full to receive $10 off (total $110).
This is a 6 week investment thus there will be no refunds for missed meetings.
You may receive a refund up to % 50 if you cancel 2 weeks in advance of the start date of the book club.
Payment accepted through: Venmo & Square